WEBINAR SERIES: SPEAKING FROM THE HEART: STORIES OF HEALING Still time to register for the Lenten series (3 sessions) Tuesdays, February 23, Mar.1 - 8 - 9:30pm Eastern Time https://www.united-in-learning.com/index.php/speaking-from-the-heart with Indigenous artist, spiritual director, and psychotherapist Dr. Patricia Vickers on "Something Went Wrong"

OCAD Course
Introduction to Indigenous Film and Video
CSLH 1N26, 5 classes
This seminar introduces students to a wide range of Indigenous film and video produced in Canada and around the world. Through lectures and screenings students explore how Indigenous filmmakers engage with strategies of colonization/decolonization, cultural revitalization, and storytelling. Topics include visual culture, representation, sovereignty, human rights, land rights, language, spirituality, sexuality, and gender. This course qualifies for the Certificate in Theory and Criticism in Art and Design.
Cost: $325 + HST

Instructor:

Pamela Matthews, MFA

Pamela Matthews is an award-winning Indigenous filmmaker, screenwriter, actor, and educator, with more than twenty-five years of industry experience. She has worked with the ImagineNative Film Festival, the Reel World Film Festival, and the American Indian Film Institute. Pamela holds an MFA in film production from York University.

Course Dates :

Course Times: 6:30pm - 9:00pm

Course Location: 510, 205 Richmond St. View Map
Aboriginal Cultural Competency Workshop
York region
Poster below
Saturday, February 27,
9:00 a.m. to 4:00 p.m.
FEB.26 & 27
http://mcccanada.ca/get-involved/events/jingle-dress
York U Pow Wow Feb. 27
https://m.facebook.com/AboriginalSAY/
Education for Reconciliation Poster below - -please post
Thursday March 10th 7-9pm 40 Oak St. Toronto
Presented by KAIROS and Toronto Urban Native Ministry
MASS BLANKET EXERCISE OTTAWA MAY 28th

------------------------------------------------------------------------------------------------------------------------------------------------------------------------------------------------------------------------------------------------------------------------------------------------------------------------------------------------
On line survey ASAP SVP
http://www.aadnc-aandc.gc.ca/eng/1448637991710/1448638013197
Ontario public servants to get mandatory sensitivity trainingon indigenous people, history
http://m.thestar.com/#/article/news/canada/2016/02/17/ontario-public-servants-to-get-mandatory-sensitivity-training-on-indigenous-people-history.html
Prime Minister to meet with Indigenous leaders 2/3
http://www.pm.gc.ca/eng/news/2016/02/10/prime-minister-meet-indigenous-leaders-and-host-first-ministers-meeting
A red butterfly for every missing, murdered woman
http://winnipeg.ctvnews.ca/mobile/a-red-butterfly-for-every-missing-murdered-woman-1.2769725
Women Are Sacred: 11 Native American Quotes About Women
http://nativeamericanpress.org/01c04450788479
Traf­ficked: Abo­rig­i­nal girls at risk New series
http://globe2go.newspaperdirect.com/epaper/showlink.aspx?bookmarkid=924B5ZIMVDE2&preview=article&linkid=825a0605-66b2-491f-a43e-9e3f781401cf&pdaffid=gTk%2bn%2fXKUQ8Qnydc5osvTg%3d%3d
Part two: Sexual exploitation is costing Canadian women their lives
http://www.theglobeandmail.com/news/national/the-trafficked-sexual-exploitation-is-costing-canadas-most-vulnerable-women-their-lives/article28700849/
Part 3: Hu­man traf­fick­ing: Why in­dige­nous women are so vul­ner­a­ble to sex­ual ex­ploita­tion
http://globe2go.newspaperdirect.com/epaper/showlink.aspx?bookmarkid=E4T3EG78GJ17&preview=article&linkid=679764f2-dfad-4c93-bff4-8d22ec06409c&pdaffid=gTk%2bn%2fXKUQ8Qnydc5osvTg%3d%3d
International human rights experts meet with Ottawa on MMIW
http://aptn.ca/news/2016/02/01/international-human-rights-experts-meet-with-ottawa-on-mmiw/
Canada urged to uphold human rights of indigenous women by UN
http://www.unmultimedia.org/radio/english/2016/02/canada-urged-to-uphold-human-rights-of-indigenous-women-and-girls/#.VrN0UoGvDqC
'Just the tip of the iceberg'
http://www.ctvnews.ca/mobile/video?clipId=809107
Families grieve at special ceremony
http://www.cbc.ca/beta/news/canada/british-columbia/hundreds-of-victims-bc-family-members-gather-to-mourn-1.3436386
Butterflies in Spirit: honouring lost women through dance
http://www.cbc.ca/radio/dnto/the-story-she-carries-lorelei-williams-and-her-fight-for-justice-1.3430217/butterflies-in-spirit-honouring-lost-women-through-dance-1.3435435
A day in the life of MMIW advocate Lorelei Williams
http://www.cbc.ca/radio/dnto/the-story-she-carries-lorelei-williams-and-her-fight-for-justice-1.3430217/photos-a-day-in-the-life-of-mmiw-advocate-lorelei-williams-1.3430302
MMIW inquiry needs to look at sex work
http://ottawacitizen.com/opinion/columnists/naomi-sayers-mmiw-inquiry-needs-to-look-at-sex-work
MMIWG Hearing Op-Ed
https://www.facebook.com/notes/justice-for-annie-mae-pictou-aquash-woman-warrior/to-hell-and-back/1021613727901575
What we are hearing MMIW
http://www.aadnc-aandc.gc.ca/eng/1448638260896/1448638282066
Murdered and missing women's inquiry must target racism in country's police forces,
http://ottawacitizen.com/news/local-news/payne-attends-conference-on-missing-and-murdered-indigenous-women-in-ottawa
Bennett says pan-aboriginal approach to MMIW inquiry won't work for Inuit
http://www.cbc.ca/beta/news/canada/north/carolyn-bennett-says-pan-aboriginal-approach-to-mmiw-inquiry-won-t-work-for-inuit-1.3426222

In­quiry must be more than po­lit­i­cal the­atre
http://globe2go.newspaperdirect.com/epaper/showlink.aspx?bookmarkid=9D502E6ZD0W6&preview=article&linkid=cb48abba-f3cd-43c2-88a6-f53ad6390206&pdaffid=gTk%2bn%2fXKUQ8Qnydc5osvTg%3d%3d
Inquiry-must-examine-provincial-issues
http://ipolitics.ca/2016/01/31/missing-murdered-indigenous-women-inquiry-must-examine-provincial-issues/
Saskatchewan senator introduces bill for missing and murdered aboriginal women
http://www.cbc.ca/beta/news/canada/saskatoon/sask-senator-introduces-bill-for-missing-and-murdered-aboriginal-women-1.3423161

MMIW inquiry to include allegations of abuse in Val-d'Or
http://www.cbc.ca/beta/news/canada/montreal/val-d-or-aboriginal-abuse-allegation-mmiw-1.3415319

Prominent national organizations seek commitment that inquiry will be truly national and comprehensive
https://amnesty.ca/news/prominent-national-organizations-seek-commitment-inquiry-missing-and-murdered-indigenous-women
Families of missing and murdered indigenous women meet federal ministers in Calgary
http://www.cbc.ca/news/canada/calgary/bennett-hajdu-indigenous-murdered-women-missing-1.3445743

Our Mother - Dorothy Georgina Abel
http://www.itstartswithus-mmiw.com/dorothy
Missing, slain Not Forgotten
http://www.thepeterboroughexaminer.com/2016/01/23/missing-slain-not-forgotten
Indigenous women and girls with disabilities bigger targets of sexual violence
http://rabble.ca/news/2016/02/indigenous-women-and-girls-disabilities-bigger-targets-sexual-violence
---
When despair reigns, violence follows
http://globe2go.newspaperdirect.com/epaper/showlink.aspx?bookmarkid=A8CHRX6SW857&preview=article&linkid=2fb8e025-b069-4328-94a1-c1bd031e2212&pdaffid=gTk%2bn%2fXKUQ8Qnydc5osvTg%3d%3d
Prayers and ceremony resource at vigils for missing and murdered Indigenous women and girls
http://www.anglican.ca/resources/prayers-and-ceremony-resource-at-vigils-for-missing-and-murdered-indigenous-women-and-girls/
YellowKnives Dene digitize traditional knowledge archives
http://www.cbc.ca/beta/news/canada/north/yellowknives-dene-digital-archive-1.3448982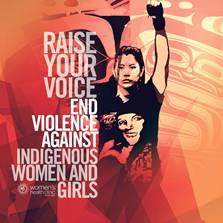 STOLEN SISTERS BOOK